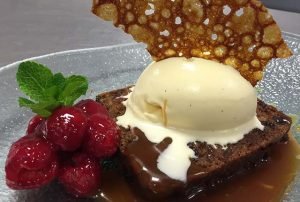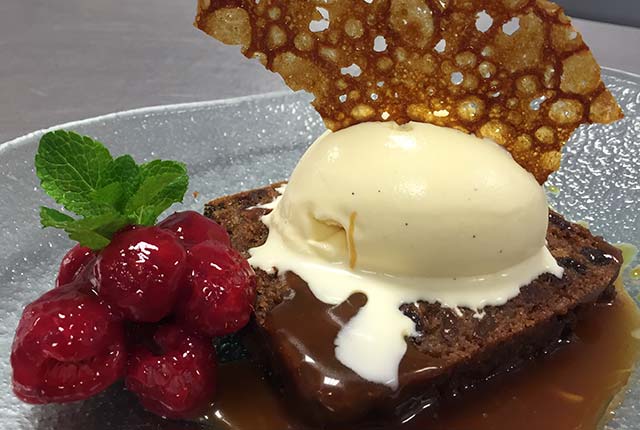 240 GM FLOUR
90 GM BEEF SUET
150 GM SULTANAS
150 GM RAISINS
60 GM CURRANTS
120 GM SUGAR
2 APPLES PEELED, CORED THEN GRATED
1 T-SP BICARB
1 TB-SP TREACLE
1 TB-SP GOLDEN SYRUP
1-TSP MIX SPICE
1-TSP CINAMON
1-TSP GINGER
MILK TO FORM A LOOSE BATTER (APPROXIMATELY 100ML)
METHOD
MIX ALL INGREDIENTS TOGETHER THEN ADD THE MILK TO FORM A SMOOTH DOUGH.
GREASE A LOAF TIN WITH A LITTLE BUTTER THEN COAT WELL WITH PLAIN FLOUR
POUR IN THE DUMPLING MIX, CLING FILM REALLY WELL THEN STEAM FOR APPROXIMATELY 2 HOURS OR UNTIL A SKEWER COMES OUT OF THE CENTRE CLEAN.
TURN OUT OF THE TIN WHEN COOKED AND LEAVE TO COOL OVER NIGHT UNCOVERED, THIS WILL HELP THE OUTER DUMPLING SKIN TO FORM.
SPRINKLE SOME FRESH RASPBERRIES WITH CASTOR SUGAR AND DRAMBUIE AND ALLOW TO MACERATE FOR A FEW HOURS AT ROOM TEMPERATURE BEFORE SERVING.
WARM A SLICE OF CLOUTIE DUMPLING IN A FRYING PAN WITH A LITTLE BROWN BUTTER, TOP WITH A SCOOP OF GOOD QUALITY DAIRY VANILLA ICECREAM, THEN SERVE WITH THE DRAMBUIE RASPBERRIES AND DUST WITH ICING SUGAR.