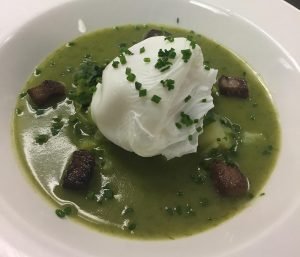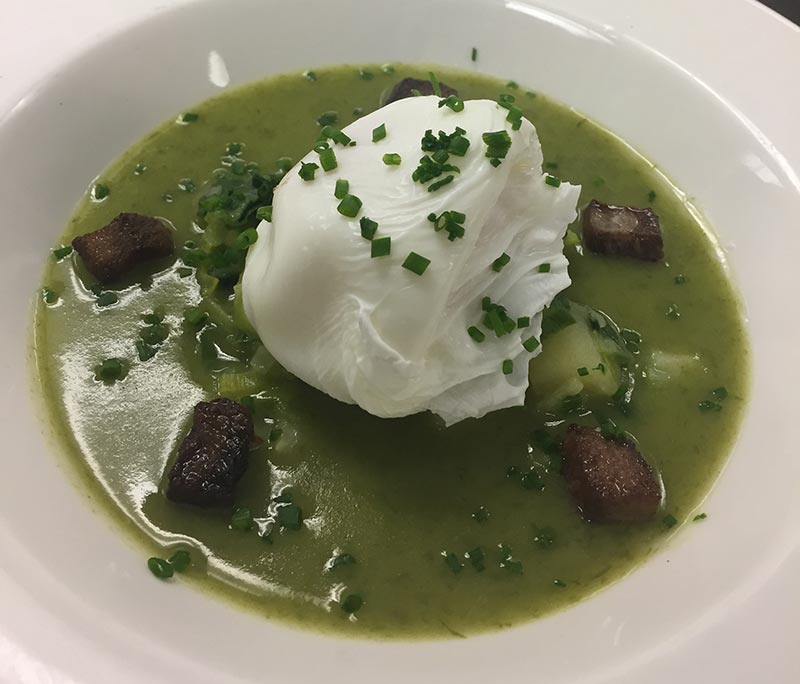 Serves 4
For the soup
2 white onions, peeled and sliced finely
150g unsalted butter
200g wild garlic
3 medium potatoes, peeled and sliced finely
For the ox tongue
1 large onion, diced
1 large carrot, diced
4 sticks of celery, diced
2 leeks, diced
1 bunch of parsley stalks
1 garlic head, broken into cloves
1 bouquet garni (see below)
1 fresh ox tongue, approx. 2kg
1 tsp vegetable oil
For the bouquet garni
2 leek leaves
1 bay leaf
A handful of parsley
A handful of thyme
String
Wash the leek leaves to remove any soil. Place one leaf down, put the herbs and bay leaf on top and cover with the other leek leaf. Tie together with string so the herbs stay inside.
For the eggs
4 free range eggs
100ml white wine vinegar
Salt
For the garnish
100g of leeks (white part), washed and sliced
Knob of butter
100g potato, peeled and cut into 2 cm cubes
To make the soup
Using a heavy bottomed pan melt the butter then add the sliced onions and sweat for 4 to 5 minutes. Add in the wild garlic and sweat for another 2 minutes. Add in the sliced potatoes and cover with about 1 litre of boiling water. Boil over a high heat until the potatoes are cooked through.
Remove from the heat. Blend in a blender until smooth. Do this quickly in order to keep the bright green colour.
To cook the ox tongue
Fill a large pot with water, season and bring to the boil. Add all the diced vegetables, garlic and bouquet garni and bring back to the boil. Add the tongue and reduce to a simmer. Cook the tongue for about 4 hours, until the meat is tender.
Once cooked, lift the tongue out and remove the skin while it's still warm. Remove and fat, gristle or glands and allow to rest and set in the fridge for a minimum of 30 minutes.
Remove the tongue from the fridge and cut it into cubes. Fry the cubes in a little heated oil until golden and crispy on both sides.
To poach the eggs
Bring a pan of water to the boil. Add the white wine vinegar and a pinch of salt. Create a whirlpool effect by gently whisking the water. Drop the eggs in 1 by one. Cook for 3-4 minutes. Remove the eggs gently, and place on kitchen paper to drain.
To prepare the garnish
Sweat the leeks gently in a pan with a knob of butter. Season with salt & pepper. Boil the potato cubes for 4 to 5 minutes, until cooked.
To serve
In the centre of a soup bowl, place some of the leek and potato garnish and place one poached egg on top. Gently pour the soup around the garnish and serve with a few pieces of crispy ox tongue. Bacon can be used instead of ox tongue. Simply dice and fry until crispy.[/vc_column_text][/vc_column][/vc_row]