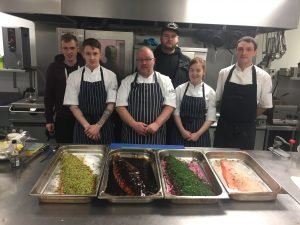 Ingredients
Scottish salmon, trimmed & pin boned, skin on – 2x 1kg
Sea salt – 200g
Brown sugar – 1505g
Lime, zested – 2
Lemon, zested – 2
Crushed coriander seeds – 30g
Crushed white peppercorns – 20g
Fresh dill, half for marinade, half for finished salmon – 2 large bunches
Juniper berries, crushed – 16
Gin – optional
Beetroot, cooked & grated – 3
Method 1
Place all the ingredients, except the salmon and beetroot, into a food processor and blend.
Blend to a smooth paste
Cover 1 salmon fillet with the paste. Place the second fillet on top and cover. Weigh fillets down and refrigerate for 12 to 48 hours, turning every 12 hours for even flavouring.
Remove salmon from fridge, unwrap, wash off marinade and dry. Cover the salmon evenly with grated beetroot. Store in an airtight container and use as required.
Method 2
Wash salmon with gin. Sprinkle with salt, sugar, lime & lemon zest, coriander, pepper & juniper.
Finely chop the dill and cover salmon evenly.
Weigh and cover. Refrigerate for 2 to 3 days, turning daily.
Remove from the fridge and wash off coating. Pat dry and coat with the second bunch of chopped dill.
Store in an airtight container, refrigerate and use as required.