Nice & easy spicy dish for a cold spring evening!
Serves 2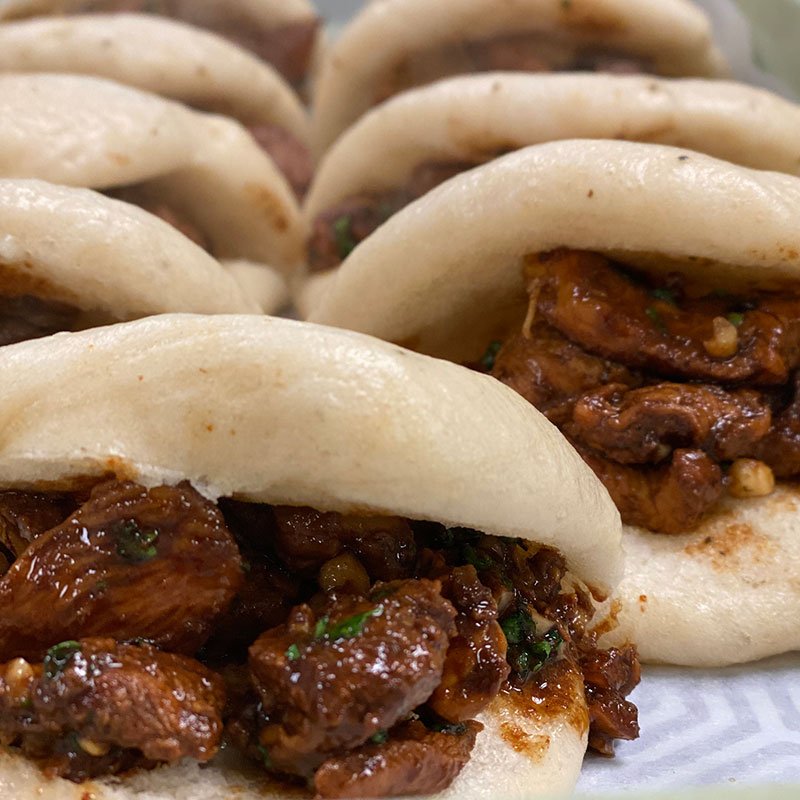 Ingredients
300g tender beef (sirloin) sliced thinly
3tbsp light soy sauce
2tbsp mirin
1tbsp soft brown sugar
3 cloves garlic crushed or finely diced
1tsp gochugaru (Korean Chilli powder) or hot chilli powder
260g plain flour, plus extra for dusting
2tsp caster sugar, plus a small pinch
1/2tsp dried yeast
1/2tsp salt
25ml milk
2tsp sunflower oil, plus extra for greasing and brushing
2tsp rice vinegar
1/2tsp baking powder
Method
In a large bowl mix soy sauce, mirin, sugar, garlic and gochugaru, until combined. Add beef and using your hands mix until all the beef is coated. Cover with clingfilm and put in fridge and leave to marinate for a minimum of two hours.
After two hours give beef a good stir then tip into a hot pan/wok and stir fry until getting brown and crispy at the edges.
In a separate bowl mix flour, sugar and 1/2tsp salt.
Dissolve yeast in 2 tsp warm water with the pinch of sugar then add it to the flour with 25ml of milk 2tsp sunflower oil, rice vinegar and 100ml warm water. Mix into a dough, add a little more water if the mixture seems dry
On a lightly floured worktop knead the dough for 10-15 minutes, until smooth. Place in a lightly oiled bowl, cover and leave to rise for 2 hours, it should double in size.
After 2 hours tip the dough onto the worktop and knock it back. Sprinkle with baking powder and knead for another minutes.
Roll dough into a long sausage shape then cut into even sized pieces, about 3cm wide. This should give you 8-9 pieces.
In your hand roll each piece into a ball.
Use a rolling pin to stretch each ball into an oval shape, brush with a little oil and then fold over a chopstick, pull out the chopstick.
Put each bun on a piece of parchment paper cover all buns with a clean towel and leave to prove in a warm place for 45-60 minutes.
Heat a large steamer basket over a pan of boiling water. Put the buns in and cover with lid. Steam the buns for 8 minutes. (many need to do this in batches)
Prize open the buns and fill with the BBQ beef and serve.
Flavours and Textures
The beef has a deep umami flavour with a spicy tang from the gochugaru. It may also have slight smoky flavour depending on how hot you pan was and how long you fried it for.
The Bao have a neutral flavour as they are just a vehicle for the flavoured filling.
The beef should have a chewy texture with crispy edges.
The bao should have a soft pillowy texture.
Nutrition
(BBQ beef)
Calories 436 calories
18g carbohydrate
47g protein
17g fat
Traces of Sodium, Potassium, Vitamin A, Vitamin C, Calcium and Iron
1g fibre
( Bao, per bun)
Calories 119
Fat 1g
Carbohydrate 23g
Sugar 2g
Fibre 1g
Protein 3g
Salt 0.2g