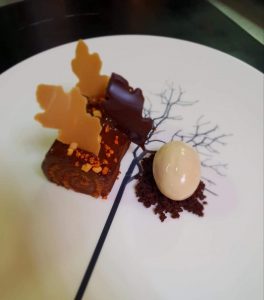 Ingredients
Chocolate sponge sheet (store bought)
Whipping cream               400ml
Rosemary sprigs               4g
Invert Sugar                        60g
Sea Salt                                 2g
Dark chocolate                  450g
Unsalted butter                15g
Olive oil                                75ml
Stock syrup                         75ml
Cointreau                            20ml
Festive decorations
Method
Roll the sponge sheet slightly. Combine the stock syrup & Cointreau and pour over the sponge.
While the sponge is soaking, make the filling. Put the cream in a saucepan and bring to the boil. Add the rosemary and remove from the head. Cover with clingfilm and leave to infuse for up to 2 hours
Once cooled, pass the cream through a sieve to remove the rosemary. Return to the saucepan, ad the invert sugar and salt and bring to the boil again. Remove from the heat and allow to cool to 65-70°C
Melt the chocolate in a bowl over a bain marie / water bath. Gradually add the cream mixture to the chocolate. Mix continually to form an emulsion.
Add the butter and mix until fully incorporated
Add the olive oil and mix until smooth.
Spread a layer of the ganache on to the sponge sheet
Roll the sponge and place in the fridge to set
Once set, remove from the fridge and decorate the outside with remaining ganache. Add your choice of festive decorations.
The presentation in the photo above is used by our friend Kevin Dalgliesh, Executive Chef at The Chester Hotel in Aberdeen.
We suggest serving with a generous amount of cream or ice cream.