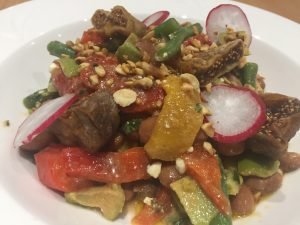 Serves 4
Ingredients
For the salad
4 large red peppers
Olive oil
150g green beans
2x400g tins of mixed beans, drained and rinsed
80g pitted green olives
2 handfuls of flat leaf parsley, roughly chopped
A handful of basil leaved, roughly chopped
120g feta cheese
Roasted hazelnuts
Dried figs
Radishes, thinly sliced
For the dressing
2 tbsp extra virgin olive oil
3 tbsp red wine vinegar
1 small garlic clove, finely chopped
1 tsp dried rosemary
1 tsp flaky sea salt
½ tsp freshly ground black pepper
Method
Preheat the oven to 240°C or gas 9
Lightly cover the peppers with some oil and place on a tray. Roast in the oven, on the top shelf, for around 15-20 minutes, until charred.
Once the peppers are out of the oven, place them in a bowl and cover with cling film. Leave them to cool for around 20 minutes. The steam will help to loosen the skins for removal later.
Put the green beans in a pan of boiling salted water. Cook for a couple of minutes. They should be cooked, but still firm to bite. Drain and then place the beans into a bowl of cold water. Once cooled, drain again.
Once the peppers have cooled, remove the skin by hand. Remove the stalk and seeds and cut the peppers into long strips.
Place the pepper strips in a bowl. Add in the cooled green beans, tinned beans, olives, basil and parsley. Mix together.
Whisk the dressing ingredients together in a small bowl. Pour over the mixed salad and mix well to ensure its evenly coated.
Divide the salad between 4 plates. Scatter the crumbled feta, hazelnuts, dried figs and radishes over the top. Season to taste & serve.