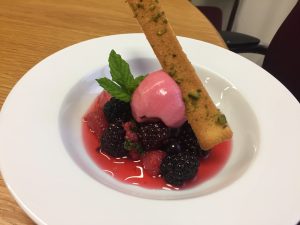 Ingredients
Pistachio Tuille
Pistachios        105g
Butter              120g
Egg white        105g
Glucose           90g
Poaching syrup
Caster sugar    750g
Water              650ml
Glucose           90g
2-3 stems of basil
Selection of mixed berries – raspberries, blackberries etc
Raspberry sorbet
Mint to garnish
Method
For the Tuille
Blitz the pistachios in a blender
Melt the butter and glucose over a medium heat
Take off the heat and add the pistachios and egg white
Spread onto a silicon lined tray thinly and bake at 170°C for 10 minutes
Remove, allow to cool and then break into shards to serve
For the poached fruits
Put the poaching syrup ingredients into a pot
Bring to the boil and drop the berries in for 1 – 2 minutes
Remove from the heat and allow to cool a little. Remove the basil leaves.
In a shallow bowl place a serving of berries. Add a scoop of raspberry sorbet and decorate with pistachio tuille and garnish with a sprig of mint.
This dessert is vegan and gluten free.