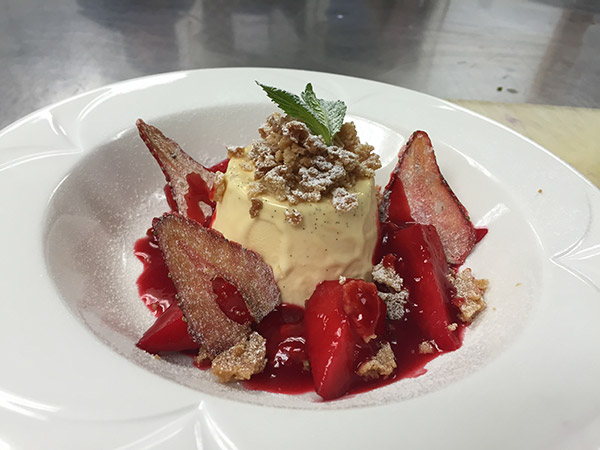 Iced honey & vanilla parfait with roasted strawberries
Double cream  500ml
Vanilla pods  1
Icing sugar  80g
Past egg yolk  60g
Gelatine  1 sheets
Whisk the icing sugar and egg yolks with the vanilla puree or seeds on large mixer till a stiff sabayon is achieved
Whisk the double cream till just below ribbon stage
Temper the gelatine in cold water
Warm a little of the cream (250ml) and then add the tempered gelatine
Cool the gelatine mixture down completley with the lightly whipped cream
Then fold in the stiff sabayon to the cream mixture
Pipe into prepared moulds
Strawberries 100g
Sugar 20g
Lemon juice 5ml
For the coulis blitz together the strawberries, lemon juice & sugar  then blend and pass through a fine sieve.
Strawberries halved 20
Sugar 20gm
Whisky 25ml for the strawberries
Boil together in a large flat pan the whisky & sugar til a light caramel,. Add the strawberries and turn over in the caramel. Reduce the heat, add the coulis cook gently for two minutes then cool until needed.