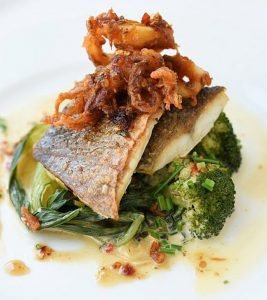 Lemon Grass Sauce:
Butter – 60g
Shallot – 50g
Button Mushroom – 150g
White Wine – 200g
Lemon Grass – 20g
Double Cream – 150g
Lime – ½
Sea Bass Trimmings
Chives to garnish
Sea Bass Fillets:
Butter – 30g
Mushrooms – 20g
Lemon Grass Sauce
Squid
Squid Batter:
Corn Flour – 50g
Toasted Cumin Seeds – 7g
Cayenne – 2g
Chilli – 5g
Salt – 3g
Chilli Sauce:
Sugar – 30g
Chilli – 20g
Lime, juiced – 1
Salt & Pepper Water – 15g
Ginger Marinade:
Ginger root – 50g
Chilli – 20g
Lime, juiced – ½
Fried Veg:
Purple Broccoli – 70g
Asparagus Spears – 6
White of Leek – 200g
Butter – 20g
Wild Garlic – 20g
Method
Lemon Grass Sauce:
Remove the fillets from the fish use the trimmings and bones for the sauce.
In butter sweat shallots with a pinch of salt, add mushrooms sweat with no colour.
Add wine; add fish bones reduce by half.
Add lemon grass and cream then bring to boil.
Boil for 6 minutes.
Strain sauce.
Add chopped chives before serving.
Sea Bass Fillets
In a pan with butter and sliced mushrooms, melt the butter.
Coat the filets in the sauce fold and place in the pan covered with a cartouche.
Bring to the heat and place in oven at 180c for 7-10 minutes.
Squid:
Gut the squid.
Cut off the tentacles.
Rinse out any sand.
Slice squid in to rings.
Squid Batter:
In a bowl, add all the ingredients together.
Add some cold water and mix until correct consistency.
Dip squid in batter and fry until Crispy and golden grown.
Chilli Sauce:
Add sugar, vinegar, chilli, lime juice and water in to a small pot.
Allow to boil and reduce.
Taste for seasoning.
Add Salt, Pepper if needed.
Ginger Marinade:
Combine all ingredients in a bowl. Sit one side.
Fried Veg:
In a pan, melt butter add garlic and some water, salt and pepper.
Bring to boil add veg starting with the hardest one boil until soft and water evaporated.
Add the ginger marinade and fry.