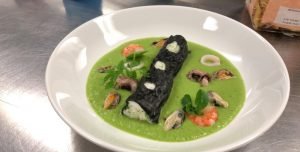 Ingredients
Pea Veloute
Onion diced             100g
Garlic chopped       1 clove
White wine              75ml
Chicken stock          300ml
Frozen peas             300g
Mint                           15g
Pasta
Semolina                   340g
Salt                             2.5g
Eggs                            4
Egg yolks                   2
Olive Oil                    5ml
Water                        30ml
Squid ink                   1 sachet
Sea bass Mousse
Sea bass                    300g
Fish stock                 150g
Gelatine leaves       3, soaked
Soft butter               30g
Whipped cream      450ml
Salt & pepper          to taste
Additional Ingredients
Seasonal shellfish and langoustine.
Method
For the pea veloute – Sauté the onion & garlic until soft without colour. Add wine and reduce over a medium heat. Add the chicken stock then bring to the boil. Finally add the peas, bring back to the boil for a minute. Then take off the heat, blend with a hand held blender and pass through a sieve.
For the pasta – Combine the ingredients and knead for 4 minutes. Rest for 1 hour. Once required, used a pasta machine to roll the pasta into thin strips. Cut into 4 inch squares ready for assembly.
For the sea bass mousse – Put sea bass with butter in a blender and pulse until chopped. Warm the fish stock and add in the gelatine until it melts. Chill the stock. Add the stock mix to the fish in the blender and pulse to combine. Add seasonings to taste. Pass through a sieve and then fold in the cream. Store in fridge.
To Serve
Place some of the sea bass mousse in the centre of a 4 inch square of pasta, and then roll into a cannelloni shape ensuring the cannelloni is sealed at the join with some water. Plunge into boiling salted water for 2 to 3 minutes and remove. Quickly pan-fry the shellfish & langoustine in butter for no more than 1 minute. Serve on top of warm pea veloute.