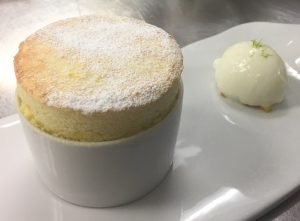 Portion Size – 2
Marinated Mango
Mango brunoise – 1
Cayenne pepper – 5g
Lime, juiced – ½ a Lime
Mango & Lime purée
Mango – 118g
Lime zest – 2g
Lime Juice – 5g x 2
Corn Starch – 5g
Meringue
Egg White – 50g
Castor Sugar – 10g
Moulds
Unsalted Butter – 20g
Castor sugar – 20g
Icing Sugar for Dusting
Yoghurt Ice-cream
Yoghurt – 250g
Sugar – 50g
Lime, Juiced – 1
Pinch of salt
Method
Marinated Mango
In to a small bowl cut brunoise of mango. Reserve trimmings.
Drizzle with lime juice and sprinkle in cayenne pepper. Stir and wrap bowl in cling film.
Mango & Lime Purée
In a blender, puree the mango trimmings and 5g of lime juice.
Mix the corn starch with the other 5g of lime juice.
Bring puree to nearly boiling point then add the corn starch mix.
One boiling set aside and let it cool down.
Meringue
In a clean wide bowl, whisk the egg whites rapidly. Once foamy slowly add sugar.
Soufflé Mix
Add a spoon of meringue to the puree and mix.
Fold the meringue in to the puree once a solid colour.
Place in moulds and flatten with a pallet knife.
Make a ridge with your finger around the perimeter of the mould. Lightly dust the top with icing sugar.
Bake in oven at 200°C for 7 minutes
Yoghurt Ice-cream
Whisk together yoghurt, sugar, and salt until dissolved.
Add lime juice.
Place in ice cream machine and churn.
Once churned place in a bowl and place in the freezer until needed