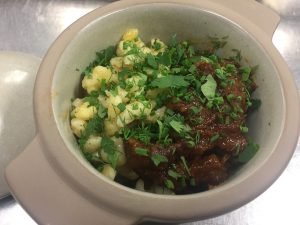 Ingredients
For the gulasch
Lard                            100g
Onions, chopped    1.2kg
Garlic, grated           4 cloves
Tomato paste          1tbsp
Sweet paprika         2tbsp
Hot paprika              1.5tbsp
Caraway seeds        1tsp, crushed
Cider vinegar           2tsp
Brown sugar            2tsp
Salt                             1.5tsp
Black pepper
Water                        1 litre
Shin of beef              1.5kg cut into 3cm pieces
For the spätzle
Plain flour                 500g
Salt                             2tsp
Eggs, beaten            4
Milk                            250ml
Butter                        80g
Nutmeg                     a medium pinch
Black pepper
Method
Heat the lard in a large pot over a medium head. Add the onions and fry for approx. 20 minutes, until golden brown.
Add the garlic and cook for a further minute.
Add the tomato paste, both paprika, crushed caraway seeds, cider vinegar, sugar, salt and a generous amount of pepper. Cover with water and bring to the boil.
Add the beef, reduce the heat and simmer for 1 hour 45 minutes to 2 hours. Check and stir regularly. Add more water to cover the meat if needed.
To make the spätzle sift the salt and flour into a bowl. Add the beaten eggs and whisk to incorporate into the flour.
Gradually add the milk, continuing to whisk, until you have a tick batter. Cover the bowl and place in the fridge to rest for half an hour.
Place a large, deep pan of salted water on the heat and bring to a boil. Once boiling, reduce to a simmer.
Rest a colander over the pan, ensuring it is not touching the water. Press the spätzle batter through the colander holes using a spatula.
Cook the noodles for 2 – 3 minutes, until they have risen to the surface. Drain well
Check the gulasch. If the meat is not tender, add a little water and continue to cook.
Heat the butter in a frying pan until foaming. Add the spätzle noodles and fry until golden and coated in butter. Add the nutmeg and pepper to taste, stir well and remove from the heat.
Serve the meat in the sauce with spätzle on the side.