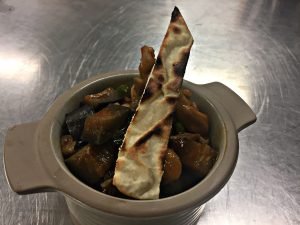 Ingredients
1kg diced shoulder of lamb
75g vegetable oil
75g butter
1 tsp Cumin seeds
2 onions finely chopped
2 small chillies
6 cloves garlic finely chopped
2 green chillies finely chopped
40g root ginger chopped
1 tbsp Garam masala
1tsp turmeric
1tsp Ground cumin
1600g peeled tomatoes
200g chicken stock
Method
Heat the oil in a heavy based pot until hot, add the lamb in two half batches, season well then seal until golden brown all round, repeat with the other half.
Place the butter, cumin seeds, onions, garlic, ginger, chillies and spices in pan and sweat.
Add the tomatoes and cook out for 10 minutes.
Add the stock and sealed lamb. Gently simmer until the lamb is tender. The sauce should be quite thick in consistency.
Serve with naan bread, rice or potatoes.