I was mother of the bride at Kinnaird last Saturday where you provided a first class service.
I know most of your dealings were with Alison Giliies although I did meet you at Easter in the preliminary planning stage.
I wanted to write personally to say an enormous thank you for providing an outstanding service. Your website says your aim is to 'exceed expectation' and you certainly achieved that last week! The selection of food from the canapés to the puddings was truly excellent and hugely enjoyed by many guests who commented on the high quality of the food.
Initially I wasn't entirely certain how Laura's desire to have tapas would work but you did an excellent job and it was way beyond anything I expected.
Your staff were all, with out exception, friendly, helpful and courteous but also managed to embrace and enjoy the atmosphere and to engage with the guests in a really personal way. It was a wonderful occasion complimented by all your hard work so thank you very much indeed.hank you very much indeed.
Penny Coulson (August 2018)
---
"A note of thanks for such exceptional catering and attention to detail. From the canopies right through to the last spoonful of desert everything was delicious and we are truly grateful to you and all your staff for making our day so very special."
The Wedding of Jane and Ian Kinkell (27th January 2018)
---
"The food was amazing – thank you so much! The seafood was the best we had tasted and everything was such good quality! The buffet worked perfectly into our day and everyone raving about all of it. Also the Oban whiskey & chocolate torte was out of this world!
Many, many thanks again and we'll hopefully be able to get you booked up for some more events!!!"
Davina (1st July 2017)
---
"We were both absolutely delighted with how the day went and we know that this was largely down to you and your wonderful team. Wendy, Stephen and Derek were absolutely amazing in setting up with us on the Friday and they helped make what could have been a stressful day setting up much more relaxed. The food on Saturday was absolutely incredible!! We have had so many guests tell us it was the best wedding meal they have ever had and they couldn't believe how tender the meat was or how well the food was presented for 140 people. The sugar blown plums with cassis sorbet when down an absolute treat! We were just absolutely blown away at your attention to detail and incredibly impressed with the canapes too!  I was too exciteable to eat many canapes but Liam had his fair share of burgers and it was amazing to see how happy they made our guests!
I have to also mention the rest of your team. Everyone was so impressed with how friendly and professional all of the team were who topped up our glasses and served up our meal. We really can't thank you all enough for helping to make our day so special."
Louise and Liam (15th April 2017)
---
"Alan and his team did the catering for our wedding in Scotland in June 2014. From the test tasting and the menu organisation right through to the day itself, everything was handled by Alan with the utmost professionalism and flexibility, which,  given that we were organising the wedding from abroad we found to be a wholly rewarding and positive experience.
The food and service on the day itself was top-notch and we received many positive compliments. Alan's sugar blown sorbet filled apple was the highlight and provided (apart from the bride of course) one of the day's wow factors! We would  always recommend the Big Bite team!"
Andy and Helle Fordyce, Berlin, Germany
---
"I am delighted to be involved with my good friend Alan Boslem and his team in developing the Big Bite food offer going forward. Alan is a highly talented Chef having worked in some of Scotland's most prestigious Hotels and restaurants including Gleneagles where he worked his way up to Senior Sous Chef in 1999.
Alan still has a special relationship with the hotel providing specialist pastries and products on an ongoing basis.
Alan has run his business now for the past 13 years providing for private and corporate events, Weddings and Special Functions. He prides himself in Exceeding Client and customers expectations while delivering Exceptional quality and Value for Money.
In his quest to continually improve and further develop his chefs and menus Alan and his team can be found in various premiere Hotels and restaurants working with other Top Chefs including Raymond Blanc and Gary Jones at Le Manoir aux Quat'Saisons in Oxfordshire."
---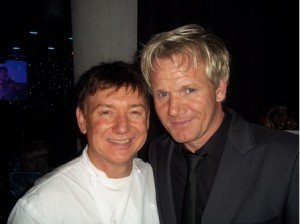 "Alan and I were involved with the compilation of menu and the production of the Fund raising meal at the personal request of Gordon Ramsey for the Spina Bifida Dinner in 2009.
We involved a few other prominent Scottish Chefs along with a class of Trainee Chef Students from Motherwell College.
The dinner was held in the Science Centre in Glasgow for circa 250 guests paying £500 per head, we were delighted when Gordon informed us that the event raised £118,000 for a very worthy cause. To quote Gordon Ramsay from his interview on the Fred McAuley show the following day "Willie and his team have cooked the most outstanding meal that I have ever eaten anywhere in the world for these numbers".
Willie Pike, Consultant
To find out more about Willie Pike click here >
---
"I cannot praise your staff highly enough.  The service was exceptional, very much in control at all times, the head waitress was amazing dancing to attention to ensure Sarah and Andrew were happy through all courses of the meal.  The food was to die for, presentation was fantastic and lots of clear plates."
Elaine Young
---
Well what can we say.  You did an excellent job on Saturday.  We cannot thank you enough for delivering an excellent service.  Your food was delicious and so many of our guests have commented so positively re the meal. Please pass on our thanks to your staff who were so helpful, professional and especially pleasant towards everyone.
Evening buffet was well received and I cannot believe the amount our guests were piling on their plates – their comment was that it was sooh good!
We wish you well and will recommend you whenever possible.
Thanks to all who helped make our day (and Catriona & Nathan) a very happy and memorable day.
Tom & Jackie