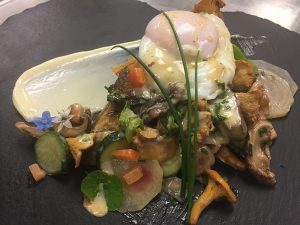 This is a great autumnal vegetarian dish.
Ingredients
To serve 4
Bake at home baguette – 1
Olive Oil
Mushrooms –  200g approx.
Butter – A knob
White wine – A splash
Double Cream  – 150ml
Chopped chive
Celeriac  – 1
Lemon Juice
Mixed vegetables of your choice
Egg – 1 per person
Method
Bake the baguette according to the package instructions. Once baked, slice and drizzle the slices with a good olive oil and seasoning. Bake in a low oven, approx. 120 °C, until golden and crisp
Clean and prep the mushrooms (we used ceps and chanterelles) then sauté in a pan with a little olive oil and butter, and seasoning to taste.
Remove the mushrooms from the pan and keep warm. Deglaze the pan with a little white wine. Reduce then add some double cream and allow to reduce again. Finish with finely chopped chives.
For the celeriac puree peel and cut the celeriac into 1-inch squares. Boil in salted water until tender. Drain and puree until smooth. Add a little butter and lemon juice to taste.
Prep and chop your chosen vegetables. We chose vegetables still available in the Big Bite garden – White beetroot, purple carrot, sprout tops, courgettes and courgette flowers. We chose to sauté the vegetables in a little butter. You can cook them your preferred way – boiled, fresh with a light dressing, oven roasted.
Serve with a poached egg.